Universal Studios Singapore isn't all about their usual rides and shows.  From time to time, they run some amazing value-add events for visitors – and these are what I love most about USS.  Because, well, when you have a theme park in your backyard, it is exciting in the beginning.  But after 5 rounds on the same ride, it can get a bit stale.  (Though I never get bored of the Transformers Ride here.  NEVER.)
Last year, we had an awesome time egg-hunting during Universal Studios Singapore's Easter Eggstravaganza.  Honestly, I was a little disappointed that they didn't have it again this year.  However, USS didn't keep us disappointed for too long, as they rolled out A Chocolate Adventure, happening from 28 April – 28 May 2017.
Video Highlight
Chocolate Garden
The main venue for this chocolate-themed event was at the studio, located in the alley next to Seasme Street Spaghetti Space Chase ride.  Look out for the "Chocolate Garden" sign beside the Sesame Street characters and head on in.  There is no additional admission fee to visit the Chocolate Garden.
Fondue Garden
Once you enter the Chocolate Garden, you won't miss the chocolate fondues located among the twinkling trees.  To enjoy the fondue, you need to purchase marshmallows at $1 for 4 pieces.
After that, take your marshmallows and head to the fondue of your choice and start dipping! Besides the usual *yawn* milk chocolate, they also had strawberry chocolate.  And get this: PANDAN CHOCOLATE.  You HAVE to try the pandan chocolate.   A tourist asked me what was pandan and I was like "Errr… Umm… A plant?" Lol… FAIL!  So for our friends from overseas who do not know what pandan is, you can read more on Wikipedia. :p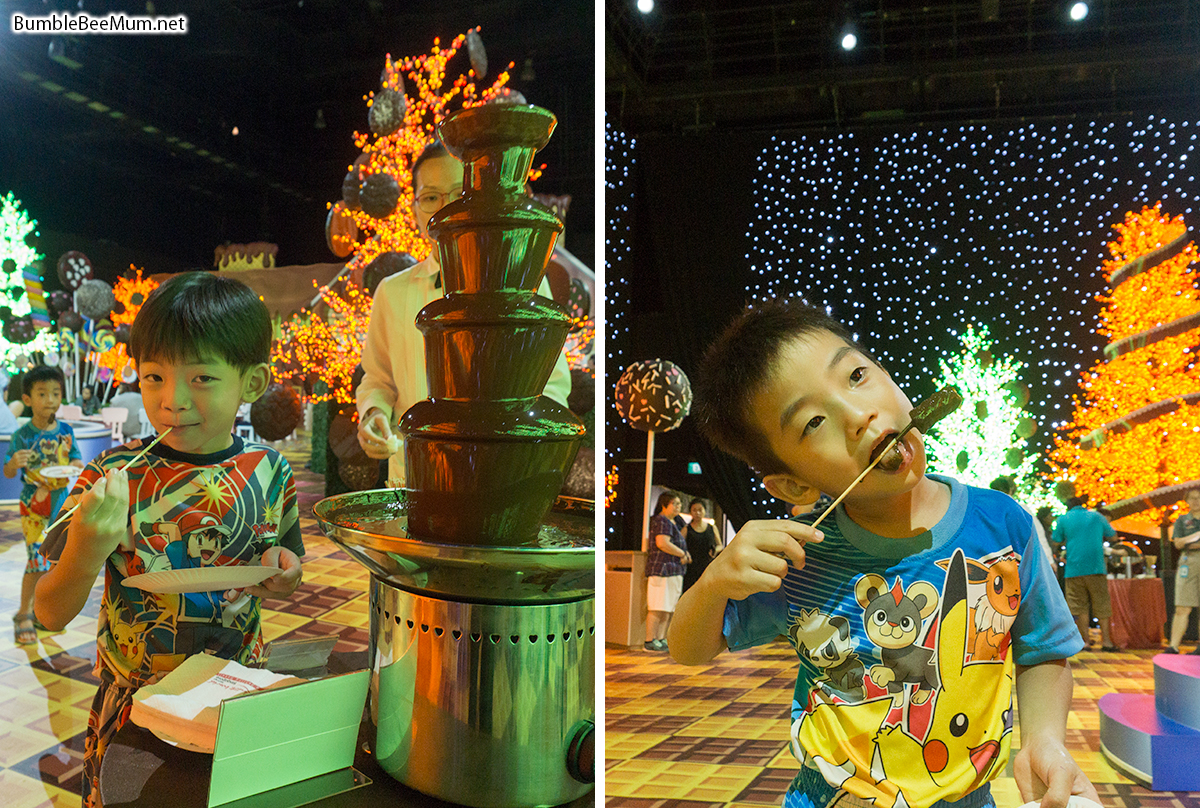 Cupcake & Cookie Decoration Classes
Over at the Cupcakes & Cookies house, there were cupcake and cookie decoration classes.  It cost $6 per set to decorate a cupcake or cookie.
You can help yourselves to the various toppings.  And don't forget to stick on a Universal Studios Singapore flag!
The chefs went around to assist the younger kids.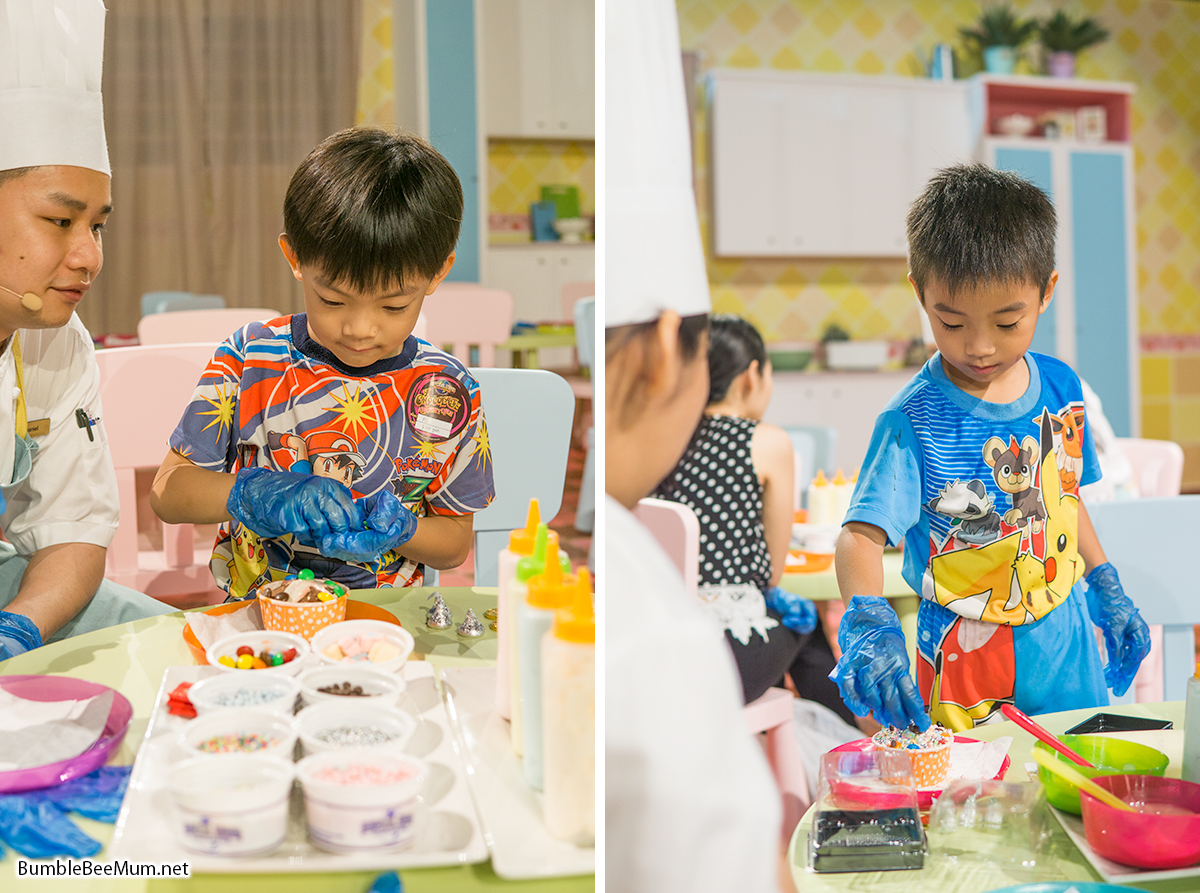 And at the end of the workshop, they provided a box and plastic bag for us to pack our cupcake home!
Character Meet-and-Greet
Oh, so you don't want to pay any more money than you already did to get into Universal Studios Singapore?  No worries, there were some free activities inside the Chocolate Garden.  Starting with character meet-and-greet.  Because we oh-so-love visiting theme parks for character meet-and-greets.  No?
Come by throughout the day at various time slots to get your photos with Candice Cupcake, Mama Cookies and Sesame Street's Cookie Monster.
Lollipop Land
For the art lovers, head to Lollipop land, where you can design your very own lollipop!
Once you have selected the lollipop that you would like to colour, find a seat and use the various colouring materials provided to beautify your lollipop.
When you're done with the colouring, grab a wooden rod to complete the lollipop and you can bring your lollipop home!
Or if you find it too much of a hassle to bring a lollipop around, just stick your lollipop into the lollipop garden inside Chocolate Garden!
Cocoa Hedge Maze
Last but not least, there was a hedge maze inside Chocolate Garden.  On first sight, it looked like an ordinary hedge maze and the boys just ran right through it happily.  And then I told them that there were chocolates hidden and they had to find them – double fun!
The chocolates were placed at the top of the hedge, which made it out of sight for young children.  At least the boys got some exercise from jumping up and down trying to find the chocolates.  Or maybe they were just on sugar rush.
Schedule of Events
Below was the schedule for the cupcake & cookie decoration workshops and meet-and-greet sessions when I was there.
Fringe Activities
Sweet Tooth Package
During the event, dining outlets will be serving up specially created chocolate-flavoured treats.  Visitors can opt for the 'Sweet Tooth Package', and choose 3 chocolate themed treats at the participating outlets for $20.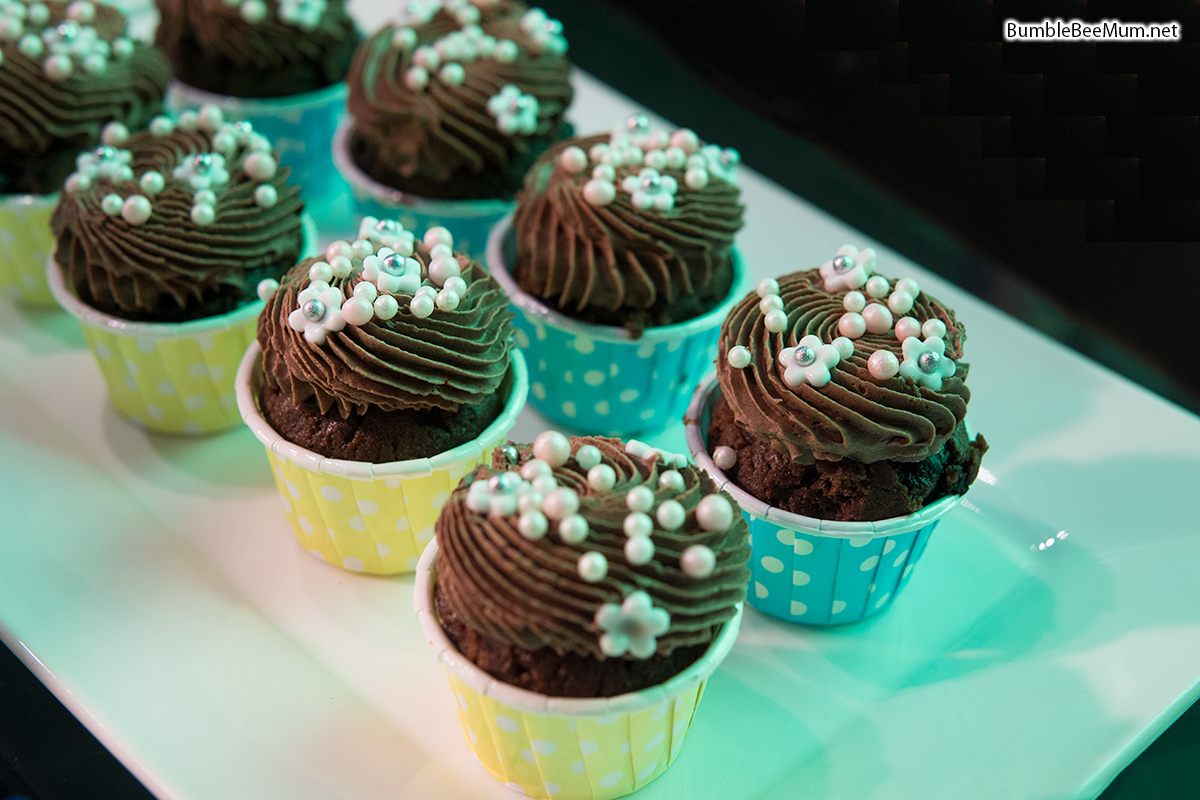 Spot the Chocolate Man
Also, while you are roaming around the theme park, keep a look out for the roving Chocolate Man wearing a chocolate badge that says "Are you looking for me?".  If you spot him, give a shout out to him and you'll stand to win mystery prizes ranging from retail and dining vouchers, to Universal Studios Singapore admission tickets!
Children's Day Out at Universal Studios Singapore
From now till 31 May 2017, Singapore resident child ticket holders to Universal Studios Singapore will receive a free treat package, comprising a kid's meal, ice-cream, free flow popcorn and a special gift during their visit!
Redeem your free treat package during the promotion period at Guest Services Lobby inside the park.
Information on Universal Studios Singapore:
Address: 8 Sentosa Gateway, Singapore 098269
Getting There: 
Take North-East line or Circle line to HarbourFront station (NE1 / CC29).
Take Exit E to VivoCity and proceed to level 3 to board the Sentosa Express. Alight 1 stop later at Waterfront station.
Walk straight till you see Chili's Restaurant on your right. Turn right and head towards the Universal Studios Globe.
Map: Click here for Google map location
Official Websites: Homepage | Facebook Page | Instagram | Twitter
Discover more fun in Sentosa!
Loading InLinkz ...
Pin this up for later!
Looking for more events in Singapore?
Check out our Singapore Events Page!
Read more on Singapore Travel!
Visit our Singapore Travel Page for more guides & reviews on Singapore!
Linking up with…
This post is part of the following blog hops:
> City Tripping by Mummy Travels and Wander Mum