Arts in Your Neighbourhood (AYN) is here again!  This biannual event organised by National Arts Council happens in March and November each year, and aims to bring the arts to where we live, work and play.
In this month's edition of AYN, we have earlier checked out "Whisper to a Roar", an art installation at Woodlands Civic Plaza near our neighbourhood, where kids could create tunes using sounds from a HDB estate – such as the sound of a barcode scanner in the supermarket, the butcher chopping meat in the market, or coffee being stirred in a coffee shop.  This installation is on display till 23 March 2017, drop by the play with it if you're in Woodlands!
Last weekend, we checked out another event, "A Dragon Behind the Door & More!", which was held at Bedok Town Square.
The boys had such great fun there, and if you missed it last weekend, don't worry! There is still one more chance for you to catch it this coming weekend at Toa Payoh HDB Hub (details at end of the post).
"A Dragon Behind the Door & More!" Show
In this production from Sweet Tooth (Cake Theatrical Productions), kids will grab a seat in a spotted beetle and follow Mini and her father on their stay at Aunt Trixie's house after they woke up find their house filled with with spotted beetles.
The kids LOVED sitting inside these specially crafted beetle boxes.  Be sure you're there early to 'chope' a box!
Another reason to be there early is because they would give out these fun activity booklets to the audience before the show starts.
As the show begins, kids will find themselves following Mini on her adventure through magical doors, where she met a dragon, an ostrich and other magical creatures! (My favourite was the 'butter fly' – I thought the pun was hilarious!)
During the show, some kids will be chosen to go up on stage to participate.  If your kids are not chosen, don't be too disappointed.  They can still dance along on the floor.   Also, do hang around after the show for photo-taking with the cast!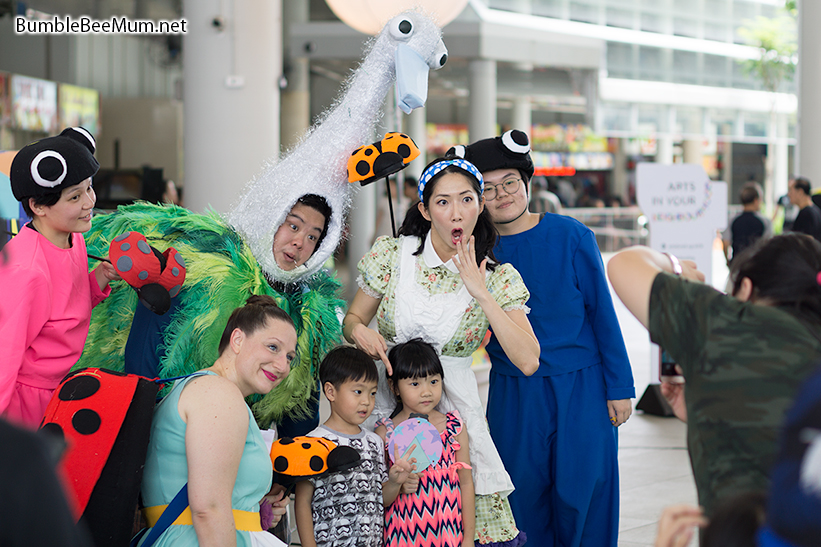 Fringe Activities
Other than catching the show, there were fringe activities that followed the same theme as the show.
Peek-A-Boo House
The Peek-A-Boo House reminded me a lot of our visit to Hakone Open Art Museum where art installations doubled up as playgrounds for kids.   Around the house, there were pictures of spotted beetles and ostriches like the ones from the show.
The boys had so much fun hanging out (literally) at the Peek-A-Boo House!
Crafting Stations
At the event, you would also find 3 activity stations where kids could participate in crafting activities related to the show.
They could make their own story box.
Craft a spotted beetle with flappy wings.
Or weave a colourful dragon!
Event Information:
Whether your kids enjoy theatrical performances, or doing art & craft, or climbing around playgrounds, there is something to delight them at A Dragon Behind the Door & More!
If you missed this event last weekend, this coming weekend is the last chance for you to catch it at Toa Payoh HDB Hub.
Show Timing and Venue: 19 March 2017 (Sun), 2pm / 5pm, Toa Payoh HDB Hub
Fringe Activities: 18 & 19 March 2017 (Sat & Sun), 11am to 7pm, Toa Payoh HDB Hub
Websites: Arts for All | Cake Theatrical Productions
Looking for activities in other neighbourhoods?
There are over 30 arts and cultural activities spanning over 12 locations, ranging from dance, music and theatrical performances, to interactive visual art installations and fringe activities.  Read more on our AYN March 2017 Highlights!
Looking for more events in Singapore?
Check out our Singapore Events Page!