Kids, especially boys, seem to have a fascination with fire stations and firemen.  When we were at Tokyo Fire Museum about a year back, the kids had tons of fun checking out a mix of retro and modern fire-fighting equipment and exhibits.  And I was thinking to myself, how nice if Singapore had something like this too!  And then I recalled that we DO have something similar.
Our Civil Defence Heritage Gallery! How could I forget about it.  When I was collating a list of museums in Singapore to visit with kids,  I told myself that I should bring the boys to check out this gallery, housed in the Central Fire Station, recommended by Mabel (Amazingly Still).
In case you are thinking the gallery is huge because of the above photo of the building, it is not.  The gallery took up just a small section at the end of the building.  If you are coming from City Hall MRT, the gallery is at the end furthest from the MRT.  So to get to there, you need to walk past those huge red doors of the working Central Fire Station.  Which a lot of tourists like to pose and take photos in front of because, I admit, those red doors are pretty instagrammable.  Go ahead, take a QUICK photo in front of the doors if there isn't any sign of activity going on.  But if you hear some alarm or stirring going on inside, scram and don't get in the way of the rescue vehicles.
The gallery was spread out over two storeys.  The first storey was where all the retro fire engines were housed.
I loved how they built display shelves and TV screens into the fire engines.  Which was kind of clever because there wasn't a lot of space in the gallery after putting all these fire engines in.  And I imagined that if they had to put some more display shelves, the whole place would probably be very hard to move around, making it *ahem* a fire hazard.
There was a fire engine that we could climb into.
We found a seat in the fire engine and sat back to catch some old film of fire fighting in the past.  Yes, this was INSIDE the fire engine. Pretty cool huh.
And as we looked out of the window, we saw a small mock-up of Bukit Ho Swee, the site of one of Singapore's biggest fire back in 1961.
There was a spiral staircase to to bring us up to the second storey, and it was like a time tunnel, bringing us from the past to the present.
Once we arrived on the second storey, we were greeted with a much more modern Emergency Preparedness Centre.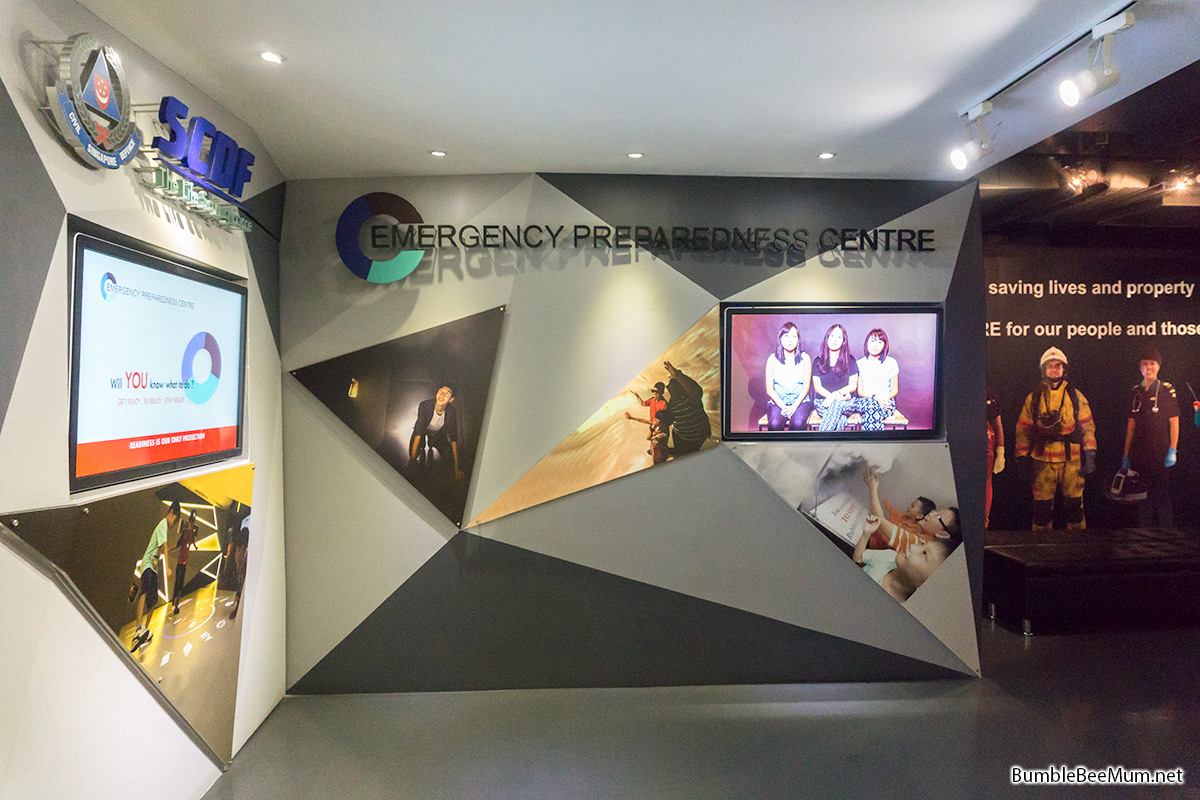 The exhibits on the second storey were much more relatable to today's Singapore.  Where we learned about how our fire fighters are trained to fight fires in tall buildings – which make up most of Singapore.
There was a pretty cool elevator door, through which we watched a video footage of how a group of firemen worked together to put out a fire on the 18th floor.
We next came to a section on rescue workers at a collapse site.  Memories of the New World Hotel collapse in 1986 came to mind.  We tried our hands, or rather ears, with a 'Trapper Person Locator', where we listened to different sounds and had to guess which sound represented the presence of a trapped victim below the rubble.
We also took turns to stand in front of a thermal imaging camera – something that amused the 4 year old.  He probably didn't realise how many times he has walked past one of these at airports before.
We also came to a section on threats from hazardous materials.  And learned about 'cold zones', 'warm zones' and 'hot zones', and how rescuers had to be dressed in different protective suits in the various zones.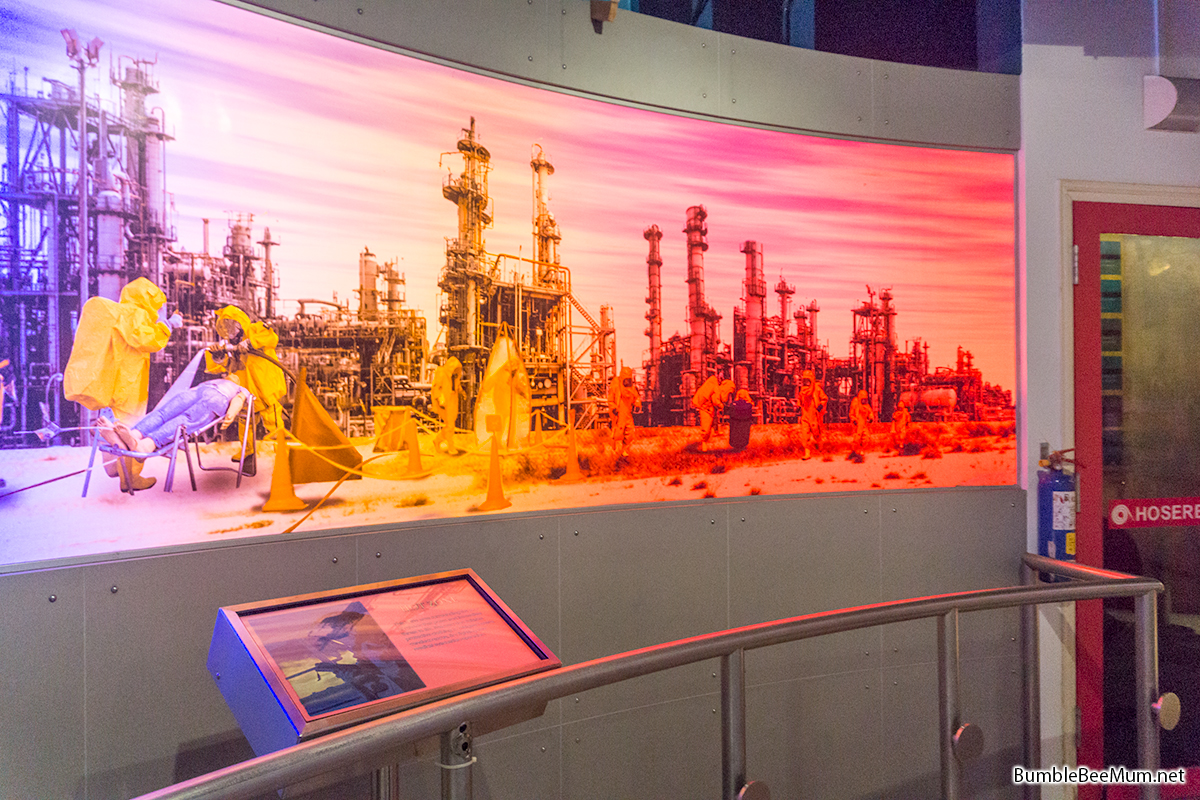 And MY's favourite part was the water gun where he could pretend to put out fire.   He kept playing with it over and over.
Civil Defence Heritage Gallery was yet another kids-friendly spot we discovered in the Civic District of Singapore.  Located beside Singapore Philatelic Museum, and about 5 min walk from National Gallery Singapore, it can be easily visited together with one or both of the other attractions!
If you're looking for a fun and educational day out with your kids, just pop by City Hall area and hop from National Gallery to Civil Defence Heritage Gallery to Singapore Philatelic Museum.  Or the other way round.  In between if you need a little sugar dose to perk your kids up, you can drop by Capitol for some honey toast at Dazzling Cafe!
Information on Civil Defence Heritage Gallery:
Address: 62 Hill St, Singapore 179367
Map: Click here for Google map location
Getting There: 5 min walk from City Hall MRT (EW13 / NS25)
Opening Hours: 10am to 5pm (Tuesdays to Sundays).  Closed on Mondays.
Tel: 6332 2996
Official Website: Homepage
Read more reviews on: TripAdvisor | Amazingly Still
Pin this up for later!
Visiting Singapore with Kids?
Check out our Singapore Travel Page for more Singapore travel guides & reviews!