One of my favourite event of the year, Tulipmania, is back at Gardens by the Bay! Tulipmania 2017 is happening at the Flower Dome from 1 April to 7 May this year.
Last year, I was so excited to visit Tulipmania and I went there at the start of the event.  And found myself looking at mostly tulip buds that weren't really blooming yet.  So this year, when the event started last weekend, I was still pondering when would be a good time to visit.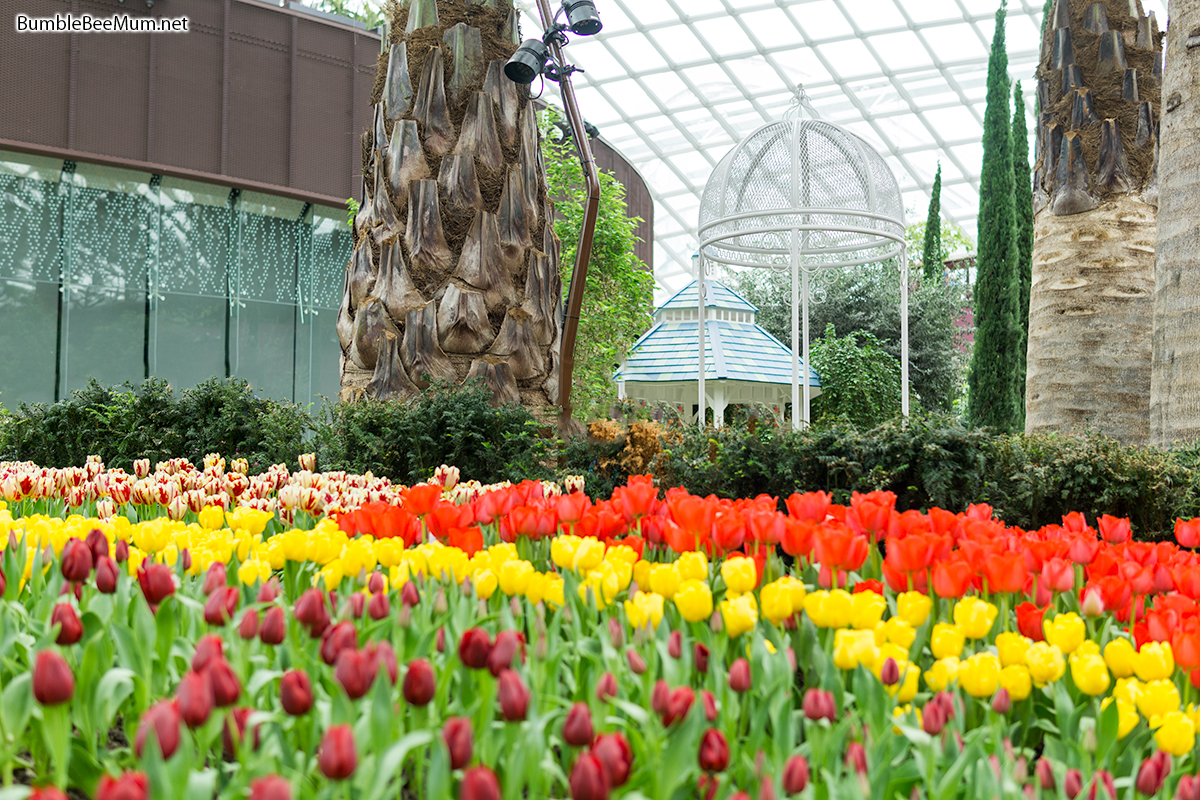 Lucky me, I have a spies.  Or should I say kindred spirits.  Or maybe I just spend a little too much time scrolling through Instagram.  I spotted my friend visiting Tulipmania last weekend, and from her photo, it looked like the tulips were mostly blooming already!
So on Sunday night, I packed my camera bag and was all ready to make my usual lightning-speed visit to Gardens by the Bay right after dropping the kids off in school.
But alas, it was rainy stormy morning on Monday.  Not that rain could keep me at home because I could always bring an umbrella and go if I wanted to.  But well, the weather was just too good to sleep in and I overslept.
So by the time I woke up on Monday and dropped MY off at childcare, it was too late to go down to Gardens by the Bay and come back in time to pick MF up from school.  Hence, I postponed my grand plan to Tuesday.  (Don't you just love my life?)
So all the photos you see in this post were taken on Day 4 of Tulipmania.  And you can see that indeed, the tulips bloomed really early this year compared to last year!
This year's Tulipmania theme revolved around Vincent van Gogh.  The moment I entered the Flower Dome, the exhibit area right at the entrance was like a mini art exhibition.  Where pictures of some of Van Gogh's famous works were displayed, surrounded by tulips that were specially chosen to complement each art work's colour palette.
As we moved on to the main floral display,  a blown up version of Starry Night took centre stage, where the night sky was filled with tulips.
The other masterpiece being featured was Van Gogh's self-portrait, which again was filled with tulips matching the colour palette of the original painting.
As I made my way down to the central display area, I noticed some planters of tulips along the side.  And I couldn't help wondering who decided to stick one red tulip among the planter of white tulips.  You know how much people love their jobs when they do quirky things like that.
Other than Van Gogh's paintings, this year's Tulipmania wasn't big on decorations.  No giant windmill or giant clogs etc.
There was a pavilion for visitors to walk through, looking out at a little pond with a fountain.  Which was a nice spot for taking photos.
Next to the pond, there was a gorgeous little boat filled will blooming tulips.  I absolutely love this – a boat of tulips floating through a sea of tulips!
There was also a bridge going over the pond, which looked suspiciously like the one from the previous floral display, Blossom Bliss, but they repainted it a different colour.  Yay to reusing the decoration!
Speaking of Blossom Bliss, last year when I visited Tulipmania, I remembered seeing a few cherry blossom trees with their last bit of blooms still hanging on.  This year, there were similarly a few cherry blossom trees nestled among the tulips, but they were mostly wilted.  When I was there, I saw some blooms falling off the cherry blossom tree and landing right on the tulips below.   For a moment, I felt like I had left Singapore.
On the whole, I loved this year's Tulipmania a lot, much more than last year's, partly because I think I went at the right time.  If you're hoping to catch this year's Tulipmania at the best, I would suggest you go soon before the initial batch of tulips start to wilt.
Local Senior Citizen Enjoy 50% Off
In line with Tulipmania 2017, Gardens by the Bay is having a promotion, where senior citizens can enjoy 50% off admission to single / double conservatories!
Terms and conditions:
– Promotion is valid from 1 April to 7 May 2017.
– Local senior citizens buying tickets under this promotion will need to present their NRIC at the time of purchase. Each NRIC entitles the holder to the purchase of one discounted ticket.
– Tickets can be purchased from the ticketing counters. Promotion is not applicable to online purchase.
– Promotion is not valid with any other offers and promotions.
Information on Tulipmania 2017:
Date: 1 April 2017 – 7 May 2017
Time: 9am – 9pm Daily
Venue: Gardens by the Bay, Flower Dome
Map: Click here for Google Map Location
Admission Fee:
Local Resident Rate – One Conservatory
Adult: $12
Senior Citizen (>60 years old): $8
Child (3-12 years old): $8
Local Resident Rate – Two Conservatories
Adult: $20
Senior Citizen (>60 years old): $15
Child (3-12 years old): $12
Standard Rate – Two Conservatories
Adult: $28
Senior Citizen (>60 years old): $28
Child (3-12 years old): $15
Official Website: Homepage | Facebook Page | Instagram | Twitter
Pin this up for later!
Read more about Gardens by the Bay!
Looking for more events in Singapore?
Find out what's fun and happening in Singapore on our Singapore Events Page!
Linking up with…
This post is part of the following blog hops:
> Faraway Files by Untold Morsels, Suitcases and Sandcastles and Oregon Girl around the World