Gardens by the Bay is one of my favourite attractions in Singapore.  And I go there A LOT.  But most of the time, I go there to check out the floral displays at the Flower Dome sans kids.  So that I can take my time to admire and photograph the flowers.   However, that is not to say that Gardens by the Bay is not a kids-friendly attraction.
In fact, at Gardens by the Bay, there is a whole section dedicated to kids.  Called Children's Garden.  No kidding.
The first thing I feel obliged to tell you about is that the Children's Garden is CLOSED ON MONDAYS.   Because the first time I tried to bring my kids to check this out, I went on a Monday.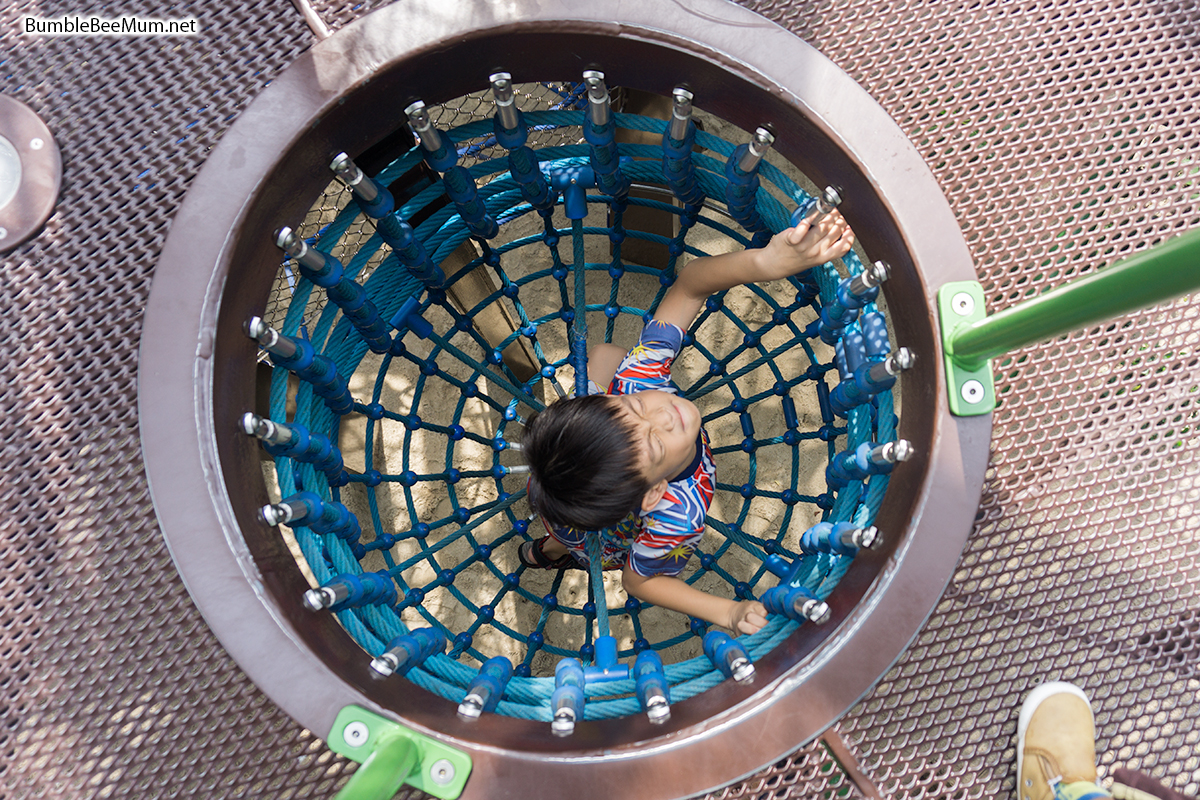 And it was not funny travelling from North to South of Singapore and walking all the way from Bayfront MRT to the Children's Garden with two hyper excited kids and discovering that the Children's section was closed.  Oh, the agony of telling kids the bad news that the playground was closed so they can't play.   If you have kids, you know my agony.  So yeah.  DO NOT GO ON MONDAYS.  Or Tuesdays if the preceding Monday was a public holiday.
Water Play Area
The most prominent section of the Children's Garden had to be the water play area.  You won't miss it.  It's one massive mess of water.
MF told me that once he ran inside, he became disoriented because he could hardly see anything as there was just SO MUCH WATER.
To be honest, this was not one of MF's favourite water play area in Singapore.  Because it was, well, just one massive mess of water.  He preferred water play areas where there were slides and other playground elements within the water.  Not just a lot of water.  Know what I mean?  No? Then check out the water play areas at other attractions like:
Rainforest Kidzworld @ Singapore Zoo (wait, what? I've never blogged about Rainforest Kidzworld?? Okay, check it out on Singapore Zoo website until I do).
This water play area was designed for children age 6 to 12.  I really don't recommend letting younger children run inside there by themselves.   Because there was just so much water, making it difficult for kids to see where they were going (based on MF's testimony).  And hence, it is easy for kids to run and knock into each other there.  Which can be dangerous for smaller children.
Fish Fountain
So where do the younger children go? To this Fish Fountain!
The fish fountain was designed for children age 2 to 5.  It may not look like much – just some stone fishes with water shooting out of their mouths.   But 4 year old MY would rather be here than at the main water play area.  He had fun catching the water in plastic cups and toys.
Adventure Trail
Like I mentioned, MF was not a big fan of the water play area.  After playing for about 30 minutes or so, he said he was done.  And spent the rest of the morning checking out the Adventure Trail next to the water play area instead.
The adventure trail was designed for children age 6 to 12.  6 year old MF managed to complete most of the challenges inside the adventure trail and had a lot of fun doing so.  He went through them over and over again.
The only course he struggled with was the monkey bar which was too high for him.
There were two straight tunnel slides at the adventure trail.
The Treehouse
At the end of the Adventure Trail, we crossed a suspension bridge which brought us to The Treehouse.  The Treehouse was also designed for children age 6 – 12.
The sand-based playground had two curved tunnel slides.
To get up to the treehouse, kids could either use the more challenging way – via a web of ropes, or take the stairs.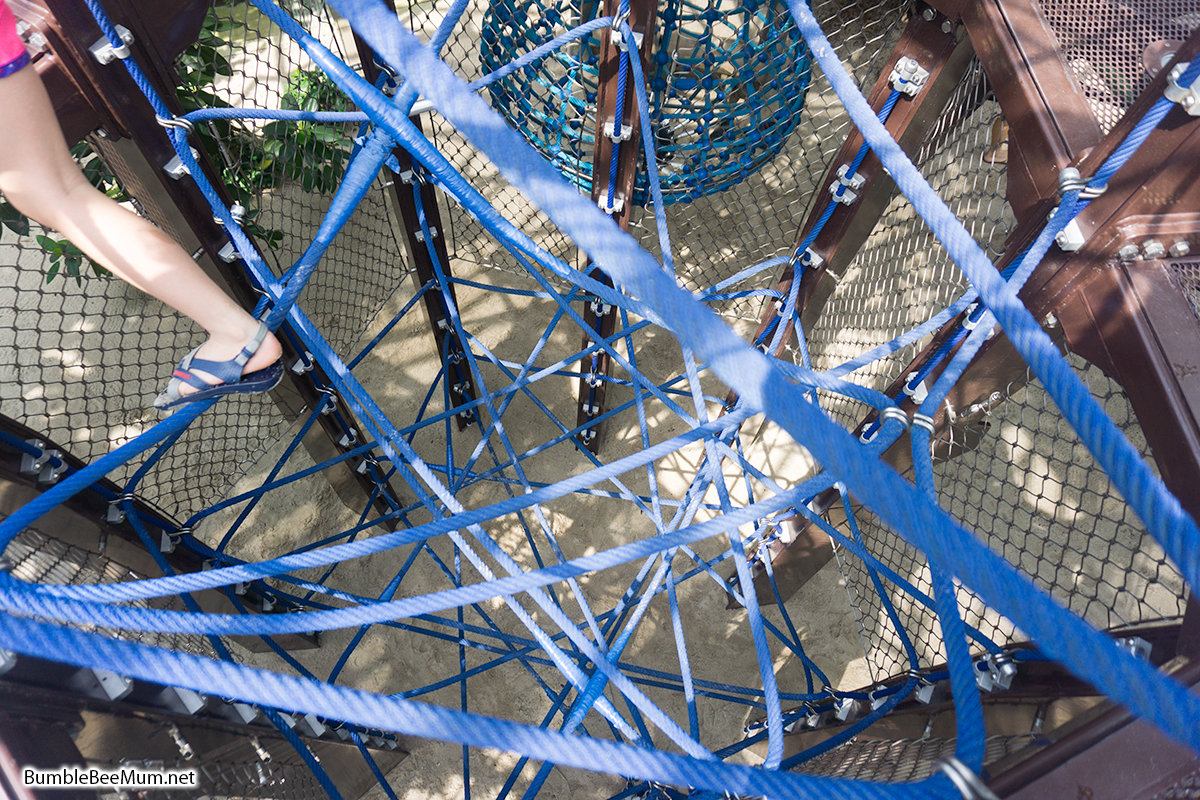 Toddler Play
I bet those of you with younger kids must be wondering whether there were any more stuff suitable for kids below 6 to play besides that little Fish Fountain.  Which brings us to the last section – the Toddler Play.  Designed for children age 1 to 5.
It was like a little playground with your rocking horses and a mini adventure course. What I found more interesting was a little hedge tunnel for toddlers to run through.  It was quite short and adults would have to bend down to go through it.  But I could see that the little ones there all loved running through the tunnel.
Amenities at Children's Garden
There was a small cafe at Children's Garden, located conveniently beside the dry toddler play area.  Prices were reasonable, with cold drinks at $1.50 – $2, hot tea at $2 and hot latte at $2.50.  There were also finger food like 6 piece nuggets for $3.50 and 5 piece chicken drumlet / winglet for $4.
Next to the Fish Fountain, there was an amphitheater (sheltered – thank goodness), with ample seats for parents to rest while waiting for their kids to play.
An open shower for kids was available.  There was unfortunately no closed shower for adults and older children.  So do take note of this.
Drinking water fountain was available right outside the toilets.
Diaper-changing table was available inside the female toilet.  Not sure about the male toilet – I couldn't check.
There was a nursing room right next to the female toilet.  Not the most beautiful of nursing rooms, just a plastic chair inside and you can lock the door when you're nursing.  There was a hot and cold water dispenser inside the nursing room.
Lockers were available.  They cost $2 per single use.  Once you open it, you have to pay $2 to use it again.
Information on Children's Garden @ Gardens by the Bay:
Opening Hours:
Tuesdays to Friday: 10am – 7pm
Weekends (Sat, Sun & Public Holidays): 9.00am – 9.00pm
CLOSED ON MONDAYS.
Closed on Tuesday if preceding Monday is a public holiday.
Waterplay and Fish Fountain areas are closed at 6.30pm on Weekdays and 8.30pm on Weekends/Public Holidays.
Address: 18 Marina Gardens Drive Singapore 018953
Map: Click here for Google Map Location
Admission Fee: FREE

Tel: +65 6420 6848
Official Website: Homepage | Facebook Page | Instagram | Twitter
Pin this up for later!
Visiting Singapore with Kids?
Check out our Singapore Travel Page for more Singapore travel guides & reviews!
Linking up with…
This post is part of the following blog hops:
> Faraway Files by Untold Morsels, Suitcases and Sandcastles and Oregon Girl around the World