If you've been using the rides booking app Grab, I'm sure you would have noticed the new GrabFamily option is now available on the Grab app.  So what exactly is GrabFamily?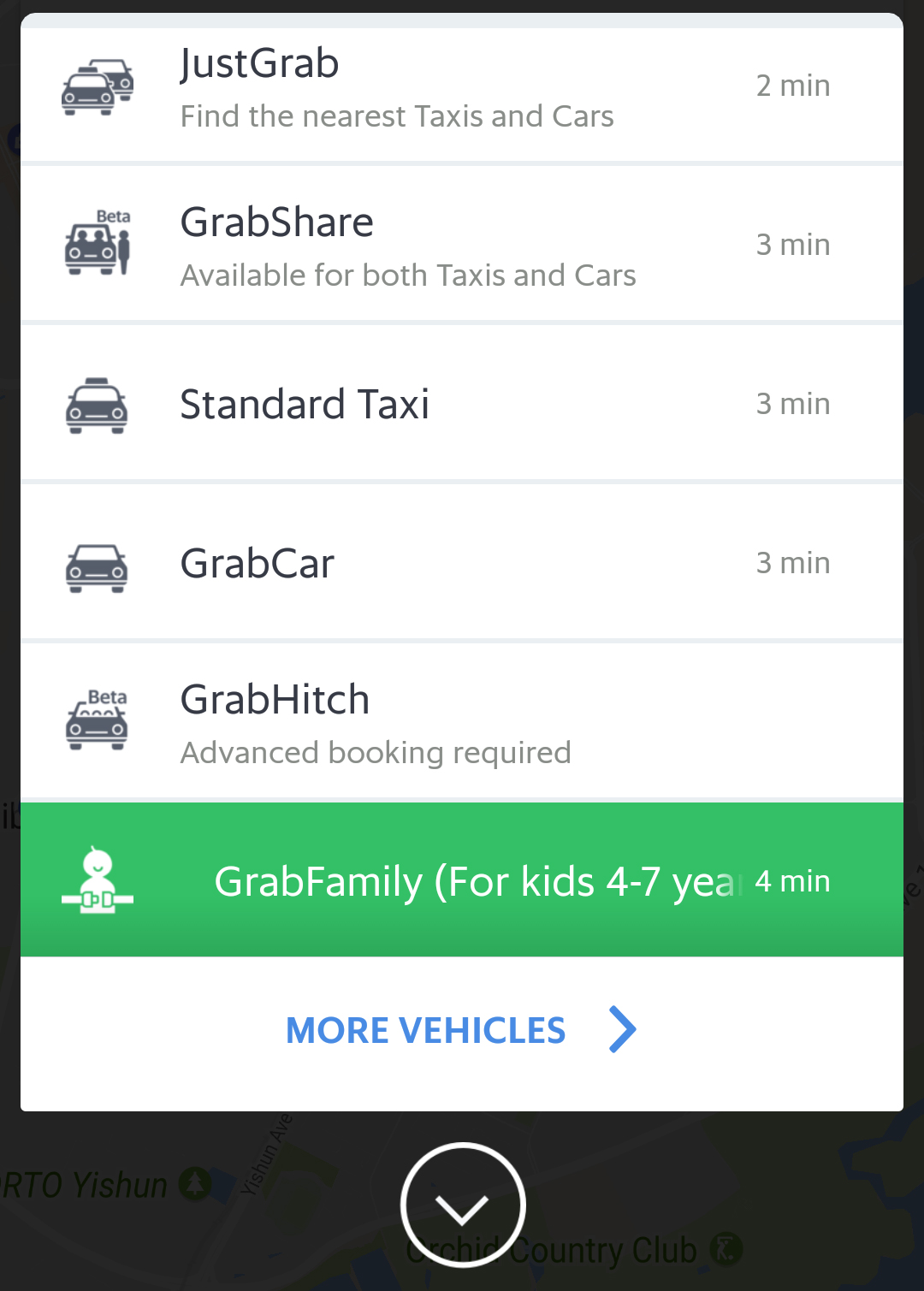 I'm sure almost all parents in Singapore who drive have car-safety restraints like baby seats, child seats and booster seats for our children in our own cars.  It is required by law.  But more importantly, it is for the safety of our children.  I once got into an accident while driving the kids to the zoo – And my two boys SLEPT THROUGHOUT THE ACCIDENT.  Because they were soooo comfortable and well buckled in their child seats.
But what about when we are not using our own cars?  There are days when my husband is using the car and I want to explore places that are hard to reach by public transport with the kids.  Technically it's possible for us to bring our own booster seats along, but it's just so cumbersome.
Which is why I was really excited when Grab announced that they would be introducing GrabFamily.  Which is essentially the GrabCar service that I'm sure many of us are already using – but these cars are now equipped with a child seat!
Recently, I was bringing my kids out to meet my husband for dinner at a restaurant near his workplace.  Which was not accessible by MRT.  And it was RAINING.  You realise how often it rains lately?? Raining not only makes it extremely inconvenient to get anywhere by public transport – it also increases the chances of accidents on the roads.  So I decided to use the GrabFamily service.
The GrabFamily service was just nominally more expensive than the GrabCar service. A few dollars I would gladly pay for my kid's safety.  I don't think we can ever measure our children's safety in terms of dollars and cents.
Our GrabFamily car came equipped with a MiFold car seat.  If you have never heard of MiFold, it is this innovative booster seat that's super compact and can be folded away when not in use, but at the same time adheres to international standard for car seat safety.  I've been thinking of getting MiFold car seats for use during our overseas road trips, so I've been reading up about them.  They're really cool.
The downside of the GrabFamily service, as I discovered, was that the driver only had ONE MiFold car seat.  So naturally we buckled up the 4-year old while the 6 year old just had to sit as how he usually sat in a taxi – as straight as possible.  But I heard that Grab does have plans to increase the number of car seats per vehicle in future.
Since GrabFamily is still a relatively new service, for now, you may have to wait a while before a GrabFamily car is available near you.  I have encountered occasions where I couldn't locate a GrabFamily car as all the GrabFamily drivers were busy.
So you may have to search for quite a while before you manage to find one in your area – which may not work well if you're in a hurry.  In other words, make sure you give yourself ample time to search for your GrabFamily ride and don't wait until the last minute to try grabbing one.
In Summary….
I'm sure that if you're a parent, you would agree with me that GrabFamily is an excellent service to have.  It's not perfect, but it's a great start – at least someone is doing SOMETHING to ensure our kids have safe rides.
I do hope that more parents would use GrabFamily when they are out with the kids to drive up the demand.  If more parents use the GrabFamily service and there is a strong demand, hopefully we would see an increase in the number of GrabFamily cars on the roads, and also an increase in the number of car seats per car, in time to come.  I think it would benefit the parenting community and our children at large.
For the safety of all our children, I think GrabFamily is a service worth supporting!
Download the app
If you haven't already got Grab installed on your phones, be sure to download it on Google Play store and Apple App Store store today!