Hokkaido is well-known for hills of shibazakura and forts of cherry blossoms in spring, and long stretches of colourful flower fields and expansive lavender and sunflower fields in Summer.  With huge and famous flower fields covering their land, it is no wonder that little attention is paid to the gardens littered around Hokkaido.
We visited Hokkaido in early June last year, which was kind of in-between seasons.  Too late for spring blooms, too early for summer blooms.  So rather than spend too much time at famous flower fields that were far from their peak, I allocated some times to visit some lesser-known gardens in Hokkaido.  And I'm really glad I did so.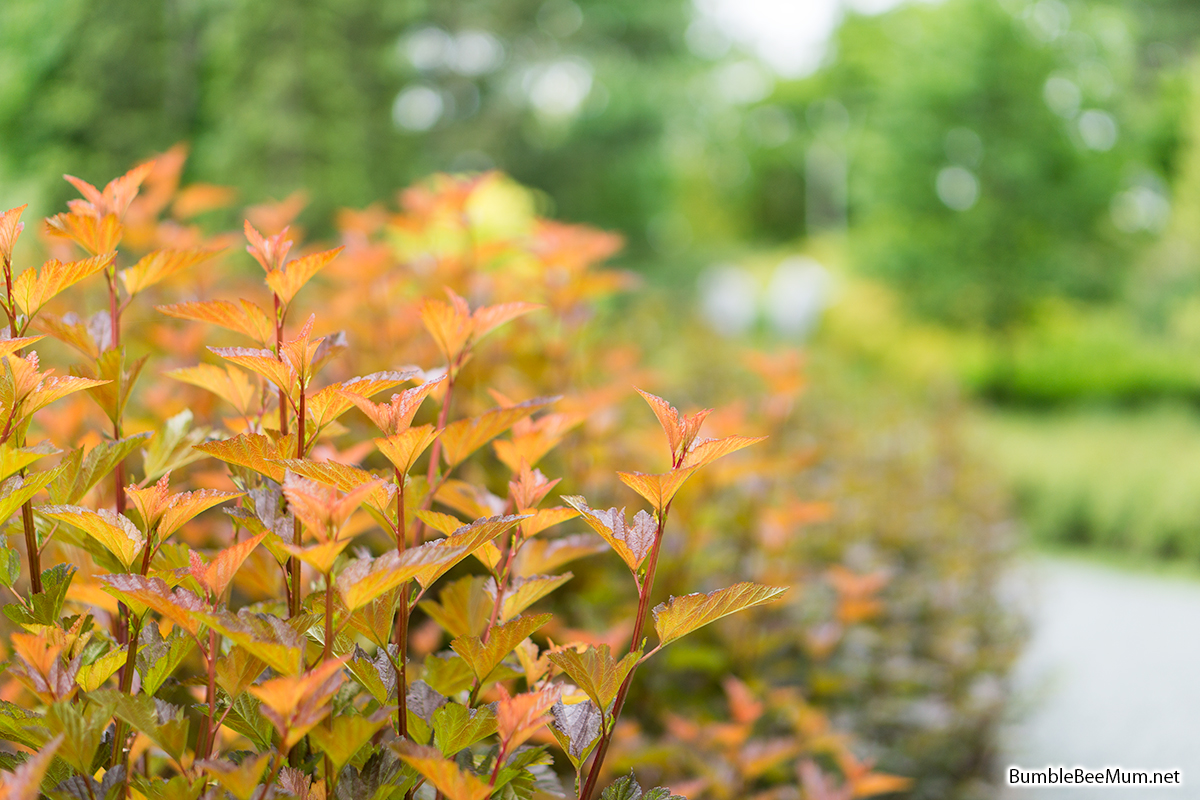 During our time in Obihiro, we visited Manabe Garden.  If you follow my blog, you would know that the main reason I visit Obihiro is for buta don (grilled pork rice bowl).
But after eating all that juicy pork, plus a bit too much bread from Mugioto, we gotta work off those calories!
Manabe Garden was located a short 2km away from Mugioto, my favourite bakery cafe in Obihiro.   So after a very sumptuous breakfast at Mugioto during our trip, we dropped by Manabe Garden for a morning stroll.  Because we had to digest some of those food from Mugioto before we went on to find more food at Ryugetsu Sweetpia Garden.  Oh, I didn't mention that my sole purpose of visiting Hokkaido time and again is for food? Yeah.  Now you know.
Once we stepped into Manabe Garden, I was immediately impressed by huge evergreens (or at least they looked like evergreens to me).  I wondered what the garden would look like in winter when Hokkaido is covered in snow.   But don't bother coming here in winter – Manabe Garden is closed from early December to late April.
I was also pleasantly surprised to see red maple-like leaves that I would usually associate with autumn.  June seemed a bit too early for any kind of autumn foliage, but I guess I was wrong.  There were some trees that were burning red in Manabe Garden.
There were three walking trails in Manabe Garden.   The squirrel trail was a 30-min course, the fox trail a 45-min course and the rabbit trail a 60 min course.
All the trails started along the same route.
And brought us to the Kids Garden.   Which needless to say, was the kids' favourite section at the garden.  This and the cafe – which I would mention at the end.
There were a couple of obstacle courses made out of wood and log for the kids to play with.
After they had their fill of fun, which made our 30-min course more like a one-hour course, we continued along the designated route until we came to an intersection where the routes split up.
My in-laws decided they had enough of walking and followed the direction for the shortest path that headed towards the exit.  MF and I decided to head in the other direction – where the sign warned that there would be stairs and hence not suitable for wheelchairs (and strollers).
There were some stairs and we had to cross a rock path to get across the pond.  So indeed this route was not stroller nor wheelchair friendly.  But it was easily completed by MF and I.
And we got to see a little waterfall along the route.
We followed the well-marked trail and very soon caught up with my in-laws who were waiting at the cafe near the exit.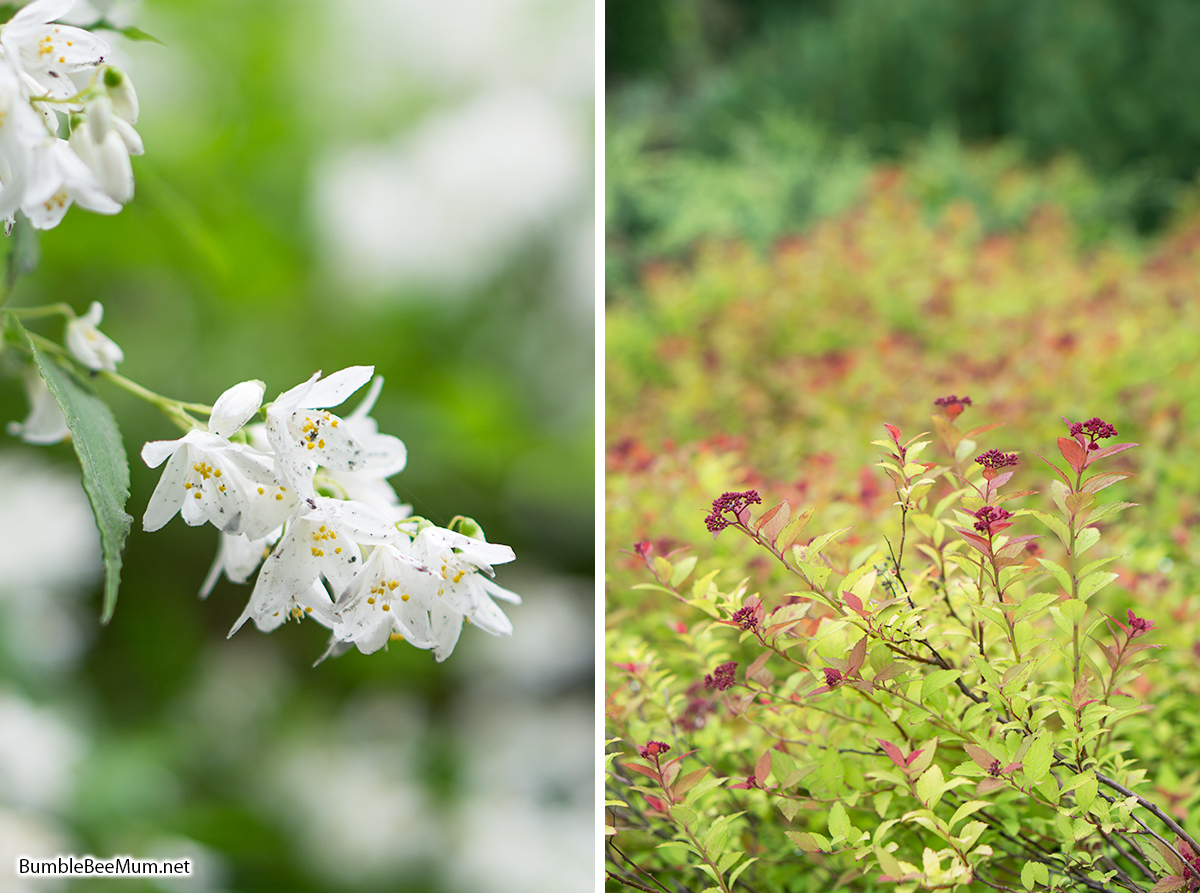 Right outside the cafe, there was a play area for kids.  With a trampoline and playground.
I made a mental note to come and try the cafe here the next time I'm in Obihiro.   I really don't think the kids would mind dining at a cafe with a playground like this!
There was a table beside the playground where the staff left food for squirrels to attract them over.  So you would have a pretty good chance of spotting these cute little creatures at Manabe Garden.
On the whole, I enjoyed the walk through Manabe Garden a lot.  It was an easy walk which could be completed within an hour, minus time for the kids to play at the Kids Garden and the playground near the exit.   I was quite happy to find this kids-friendly spot in the city and do recommend popping by if you're in Obihiro with kids!
Information on Manabe Garden:
Address: 帯広市稲田町東2-6
Map: Click here for Google Map location
Map Code: 124 474 778
Opening Hours: 
June to August: 0800 – 1900 (last entry 1800)
Other months: 0800 – sunset
Manabe Garden is closed in winter (early December to late April)
Admission Fee:
800 yen per adult
200 yen per child (elementary – middle school age)
Tel: +81 155-48-2120
Official Website: Homepage | Facebook Page
Looking for a hotel in Obihiro?
Our family usually stays at Richmond Hotel Obihiro whenever we are in Obihiro.  Their twin rooms are bigger than most twin rooms in Japan.  And it is conveniently located right opposite Obihiro station!
Secure your room in Obihiro today!
Disclosure: By booking your hotel using the links / search box for our preferred hotel booking site,
Booking.com
, we get a small commission which helps support the running of this blog and doesn't cost you anything extra.  If you have enjoyed the information on this blog, do support us by booking your hotels using the link / search box above.  Thank you! 🙂
Read more posts from the same trip!
Loading InLinkz ...
Pin this up for later!
Get off the beaten track in Japan
This post is part of my 'Japan Off-the-Beaten Track' series, where I feature some of my favourite spots in Japan that are less commonly visited by tourists!
Visit our Japan Travel Blog
Get more Japan travel guides & sample itineraries on our Japan travel blog!