During our trip to Pattaya with kids, we made quite a last-minute decision to visit Nong Nooch Tropical Garden.  I had read about it on various travel guides as an attraction of increasing popularity.  But I remained undecided whether to visit it, or to just spend the day bumming in our resort.
Nong Nooch Tropical Garden looked like it was right across the road from our resort, Sea Sand Sun Resort & Villas Pattaya, on the map.  Eventually I decided that it seemed such a waste to be in this part of town and not go in to take a look.  So we got our tickets using Klook app, where we received our voucher instantly.
We got a taxi from our resort to bring us to Nong Nooch Tropical Garden.   Although the gate to Nong Nooch Tropical Garden was right across the road from our resort's gate, the garden itself was pretty deep inside, about 3km from the main road.  When we arrived at the ticketing counter, one of us had to get off the taxi to show the ticketing counter staff our Klook voucher.   We had to choose a time slot for the Thai cultural show and were given tickets for the show.  After that, we were free to enter the gardens.
The taxi driver drove us all the way to the deepest end of Nong Nooch Tropical Garden.  After we alighted, we immediately spotted a food court! LUNCH TIME!
If you purchase your Nong Nooch Tropical Garden ticket from Klook, you have an option of adding lunch to your package for about SGD10 per pax.  I skipped the lunch option and chose to have lunch at the food court instead.  Food at the food court was very cheap at about THB40-50 per dish, and the pork trotter rice was pretty good!
After lunch, there was a foyer right beside the food court where the kids found a number of colourful cars of various shapes and sizes that they could hop on.  They were not electronic kiddie rides and couldn't move, but the kids seemed to enjoy climbing on them and sitting inside anyway.
After passing the foyer, we reached the area called "Butterfly Hill".  As the name suggested, it was a hill covered with colourful flower patches and we spotted butterflies flying around them!
All around the Butterfly Hill, we found animal sculptures that the kids ran around posing with.
As we were strolling around Butterfly Hill, there was an announcement for visitors with the show tickets to proceed to the show venue as the Thai Cultural Show was starting soon.  However, the kids were having so much fun checking out the animal sculptures that we decided to just skip the show and enjoy our stroll in the gardens.
At the top of the hill, there was bridge to proceed to the rest of the gardens.  So before we went any further, we headed back down the hill to the back of the food court where there was a little 'zoo'.
As all the reviews on TripAdvisor mentioned, the 'zoo' was pretty sad and I kind of agreed that Nong Nooch Tropical Garden would have been better off if they had done away with the real animals and just kept to the fake animals.   The kids again ran around posing with all the fake animals.
They stopped for a bit to feed the rabbits.  You can buy some long beans to feed them for THB20.
We also found a little slide – not the cleanest but the kids didn't care and frankly neither did I.  I'm always happy to find some playground of sorts for the kids.
And the kids' favourite part was probably the carnival games which were super easy to win! And they cost just THB50 per game.  The kids won themselves a toy vehicle each – which became their 'beach toy' and they brought back them to the beach at Sand Sand Sun Resort to play with every morning.
After they had their fill of fun at the slide and carnival games, we went back up Butterfly Hill and crossed the bridge over to the rest of the gardens.
We found ourselves passing by the Mammoth Garden which was so grand!
We came to the Animals Kingdom and there were sooooo many animals to check out! I went to Nong Nooch's website to count, and apparently there were 41 in total?! Quite sure I didn't find all 41 of them.  I'm not sure how I even missed out the Dinosaur Valley!
Anyway when I was blogging about Cartoon Network Amazone Waterpark, I ranted about how I lost a lot of my photos from this trip yah? Well, a lot of my photos from Nong Nooch are also gone.  But HA HA! Luckily I posted my favourite photo of MY pretending to be Ant-Man on Instagram when I was there.  Yup, a constipated Ant-Man.  LOL….
The ant wall was one of our favourite part of the garden.  Look how awesome it was.
But anyway, there were like 40 other animals for you to check out besides the ants.  It's crazy.  You have to go see it for yourselves.
At the end of the board walk, we found ourselves at the Car Garden.  Yes, CAR Garden.  Which I loved.  Because it was air-conditioned. (Did I mention Thailand was scorching hot??)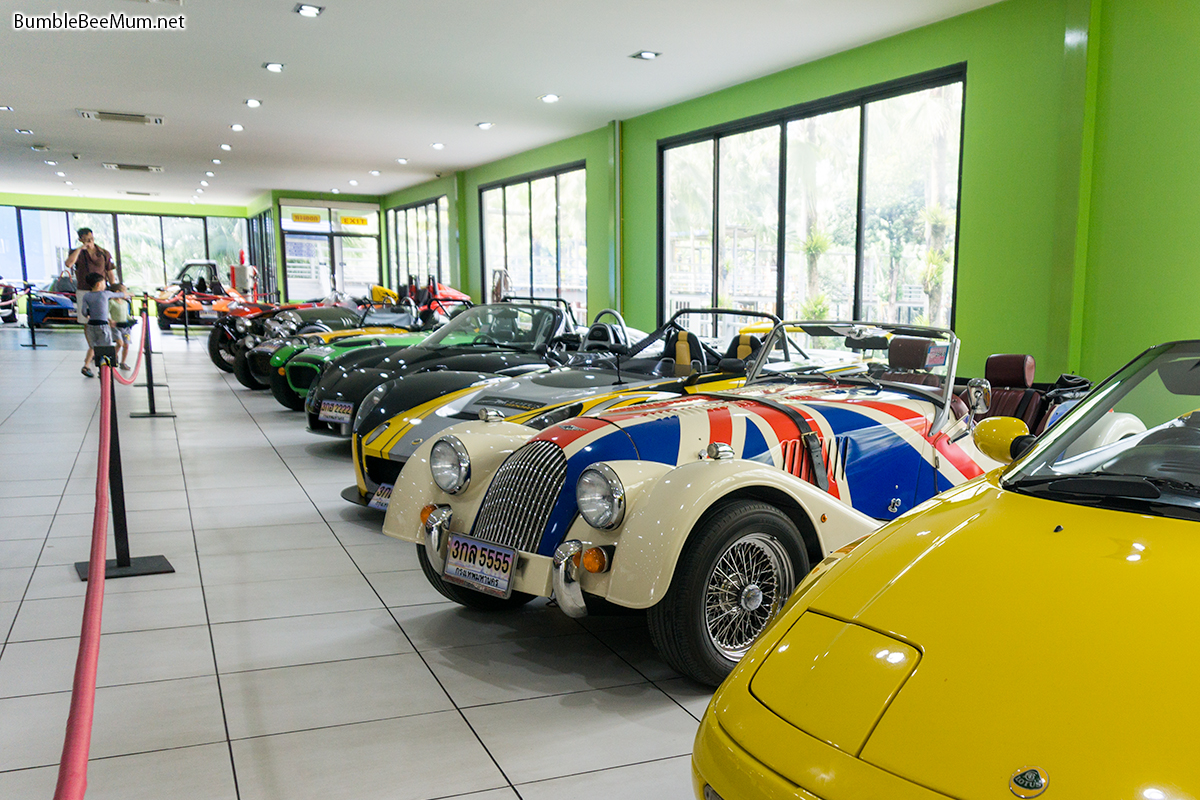 And we had a good laugh at the giraffes peeking in to the Car Garden!
And within the Car Garden, there was an area where we found…. Cats! Bet you weren't expecting that. Cats in the Car Garden.  Nong Nooch was just weird and surprising like that.
What I have shown you was just a fraction of what Nong Nooch Tropical Garden had.  We missed the Thai cultural show.  We also skipped quite a number of sections because the kids were getting tired.  I guess it was a mistake to come here right after getting off the flight followed by a 2 hour car ride from Bangkok to Pattaya!  But I'm glad we squeezed in this quick visit to Nong Nooch Tropical Garden.
A note on getting out of Nong Nooch Tropical Garden:  If you didn't come here with a private driver, there was a taxi stand right outside Nong Nooch, diagonally opposite the road from where the ticketing counters were.  It was not easy to find, hidden inconspicuously under a tree.  Keep a look out for this tree with some songtaew parked underneath.  Ask the ticketing staff to point it out to you if you don't see it.  There was a board with taxi fares from Nong Nooch to various parts of Pattaya written on a board at the taxi stand, so it was all fixed rate.  And the taxi fares were not cheap, especially if you were staying in central Pattaya.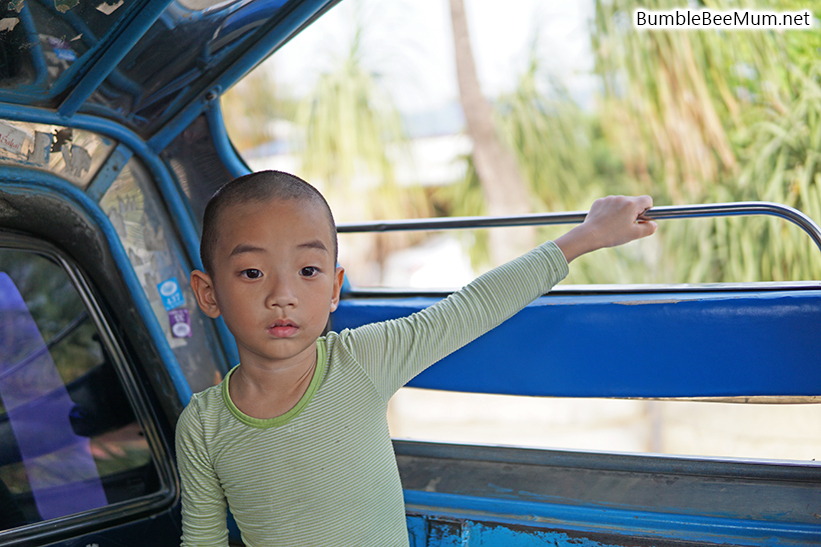 As suggested by our resort staff, when in Pattaya, it is best of hire a private driver for a day to bring you to a few places of interest.  Other kids-friendly attractions near Nong Nooch Tropical Garden include Cartoon Network Amazone Waterpark and Pattaya Swiss Sheep Farm.
Information on Nong Nooch Tropical Garden:
Address: 34/1 Moo 7 Najomtien District, Sattahip, Chonburi 20250 Thailand
Map: Click here for Google Map location
Tel: +66 38 429 321
Official Websites: Homepage | Facebook Page | Instagram | Twitter
Read more reviews on: TripAdvisor
Read more from the same trip!
Loading InLinkz ...
Pin this up for later!
Linking up with…
This post is part of the following blog hops:
> City Tripping by Mummy Travels and Wander Mum